After months of breakneck market competition, the California housing market experienced a mild case of homebuyer fatigue in May with a slight decrease in home sales from April. However, home prices continued to increase in May, setting another record high.
According to the monthly home sales and price report from the California Association of REALTORS® (C.A.R.), home sales statewide on a seasonally adjusted annualized rate were down 2.7 percent in May 2021, when 445,660 homes were sold, compared to April 2021, when 458,170 homes were sold. However, homes sales increased 86.7 percent in May 2021, compared to May 2020, when 238,740 homes were sold on an annualized basis.
The sharp year-over-year sales jump was expected as the housing market was hit hard by the COVID-19 pandemic shutdown last year, when home sales dropped to their lowest level since the Great Recession.
The monthly number for closed escrow sales of existing, single-family detached homes in California is based on information collected from more than 90 local REALTOR® associations and MLSs statewide. The statewide annualized sales figure represents what would be the total number of homes sold during 2021 if sales maintained the May pace throughout the year. It is adjusted to account for seasonal factors that typically influence home sales.
In San Diego, home sales in May 2021 also were down 3.2 percent, compared to April 2021, but up 76.1 percent from May 2020.
May 2021 County Sales and Price Activity
(Regional and condo sales data not seasonally adjusted)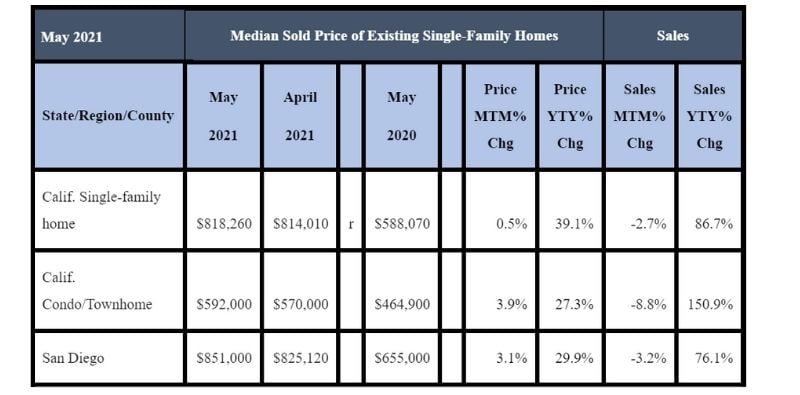 Meanwhile, home prices continued to increase in May 2021. Statewide, the median price for a single-family detached home inched up 0.5 percent from $814,010 in April 2021 to set a new record of $818,260 in May 2021. The figure marked a whopping 39.1 percent year-over-year increase since May 2020, when the statewide median home price was $588,070. The year-over-year price gain was the highest ever recorded, and it was the second straight month that the state recorded an annual increase of over 30 percent.
Robust demand of higher-priced properties contributed to the record-setting statewide median price. With million-dollar home sales surging more than 200 percent from May 2020, its market share is nearly double what it was a year ago when it was at 15.6 percent. More million-dollar properties were sold in the past couple of months than homes priced below $500,000.
In San Diego, the median price for a single-family detached home in May 2021 reached $851,000, which was 3.1 percent higher than the April 2021 price of $825,120 and 29.9 percent higher compared to the May 2020 price of $655,000.
"The overheated housing market is showing signs of a much-needed cooling and could be a sign of waning buyer interest as the torrid pace of home price increases and buyer fatigue adversely affected demand," said C.A.R. President Dave Walsh. "We're seeing many would-be buyers taking a break and hoping to see more listings as the economy reopens and prospective sellers list their homes for sale."
"A lack of housing inventory continues to push up prices, and modestly higher interest rates, increased competition, and declining affordability have caused some buyers to become discouraged. Despite strong growth rates, the level of home sales has fallen on a monthly basis in four of the last five months," said C.A.R. Vice President and Chief Economist Jordan Levine. "Additionally, pending sales data for May, which was virtually unchanged from April, suggests further slowing in coming months. Fortunately, new listings have finally started to rise, which could help to sustain a higher level of home sales deeper into summer by providing much-needed supply."
Other key points from C.A.R.'s May 2021 resale housing report included:
-- Home sales in May for all major regions in the state experienced at least a 44 percent year-over-year growth in sales in May, with the Central Coast notching the biggest jump at 111.8 percent and sales in all four counties in that region surging by more than 99 percent. The San Francisco Bay Area also increased in sales by triple-digits (104.6 percent) from last year, followed by Southern California (80 percent), the Far North (58.6 percent), and the Central Valley (44 percent).
-- Sales growth statewide in the higher-priced markets remained strong in May 2021, while home sales in the lower-end continued to be lackluster. Demand in the million-dollar segment increased by more than 200 percent year-over-year, with sales of homes priced $2 million and higher surging over 300 percent from a year ago. On the other hand, sales of properties priced below $300,000 continued to fall precipitously, with the year-over-year sales dropping 34 percent in May. Tight housing supply continues to be the primary factor constraining sales in the lower price segment.
-- Three out of five major regions reached new record high median prices in May, with each region growing more than 20 percent from a year ago. The San Francisco Bay Area had the highest year-over-year gain of 38.9 percent, followed by Southern California (33.1 percent), the Central Coast (32.6 percent), the Central Valley (27.1 percent), and the Far North (22.1 percent).
-- Active listings in California reached the highest level in six months after a 6.6 percent monthly increase in May and are expected to continue inching higher, following the seasonal pattern. Housing supply typically climbs during this time of the year and usually remains on an upward trend through late July and early August. The pace of growth on a month-to-month basis is on par with the average growth rate of 6.7 percent from April to May recorded between 2015 and 2019.
May 2021 County Unsold Inventory and Days on Market
(Regional and condo sales data not seasonally adjusted)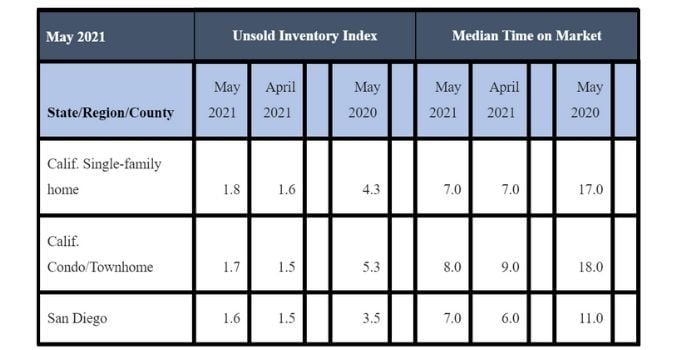 -- Statewide, the unsold inventory of available homes for sale improved slightly to 1.8 months in May 2021, compared to 1.6 months in April 2021, but remained sharply below last year's level of 4.3 months for May 2020. The month-over-month rise in inventory is partly due a slight increase in housing supply, but a slowdown in housing demand in May also contributed to a bump in the index. Inventory levels measured in months indicate the number it would take for the available supply of homes on the market to sell-out given the current rate of sales.
-- In San Diego County, the inventory of available homes for sales in May 2021 improved slightly to 1.6 months, compared to 1.5 months in April 2021, but was sharply below the 3.5 months figure posted for May 2020.
-- The median number of days it took to sell a California single-family home hit another record low of seven days in May 2021, which was the same number in April 2021, down from 17 days in May 2020. The seven-day figure is lower than the eight days in March 2021, previously the lowest ever recorded. The eight-day figure compared to 10 days in February 2021, 11 days in January 2021, 11 days in December 2020, nine days in November 2020, 10 days in October 2020, 11 days in September 2020 and 15 days in March 2020. Prior to setting record low numbers this year, the previous statewide record was nine days in November 2020.
-- In San Diego County, the median number of days an existing, single-family home remained unsold on the market was seven days in May 2021. That number compares to six days in April 2021 and March 2021 and seven days in February 2021 and January 2021, as well as eight days in December 2020 and seven days in November, October and September 2020. The timeframe a year ago in May 2020 was 11 days.
-- The 30-year, fixed-mortgage interest rate averaged 2.96 percent in May, down from 3.23 percent in May 2020, according to Freddie Mac. The five-year, adjustable mortgage interest rate was an average of 2.62 percent, compared to 3.16 percent in May 2020.