Higher interest rates led to further decline in the California housing market in October 2022 as home sales hit their lowest level since February 2008 with the largest year-over-year decline since December 2007, outside the pandemic.
According to the latest home sales and price report from the California Association of REALTORS® (C.A.R.), year-to-date statewide home sales were down 18.5 percent in October 2022.
Also in October 2022, sales were down 10.4 percent on a monthly basis from 305,680 units sold in September 2022 and down 36.9 percent from a year ago in October 2021, when 434,170 homes were sold on an annualized basis.
Overall, statewide home sales have been on a downward trend for 16 straight months on a year-over-year basis. October 2022 was the third time in the last four months that sales dropped more than 30 percent from a year-ago level.
The monthly 10.4 percent sales decline in October 2022 was worse than the long-run average of +0.5 percent change recorded between September and October in the past 43 years.
Sales in all price segments continued to drop by 30 percent or more year-over-year, with the $750,000-$999,000 price segment declining the most at 40.8 percent. The high-end market ($1 million-$1,999,000) experienced the smallest sales drop at 34.1 percent.
Closed escrow sales of existing, single-family detached homes in California totaled a seasonally adjusted annualized rate of 274,040 in October, according to information collected by C.A.R. from more than 90 local REALTOR® associations and MLSs statewide. The statewide annualized sales figure represents what would be the total number of homes sold during 2022 if sales maintained the October pace throughout the year. It is adjusted to account for seasonal factors that typically influence home sales.
In San Diego County, home sales dropped 40.7 percent in October 2022, compared to a year ago in October 2021, and 15.6 percent lower in a month-over-month comparison with September 2022.
San Diego's October 2022 year-over-year drop of 40.7 percent compares to September 2022's year-over-year drop of 33.2 percent.
Home prices also continued declining statewide and locally.
California's median home price declined 2.5 percent in October 2022 to $801,190 from the $821,680 price recorded in September 2022. The October 2022 price was a mere 0.3 percent higher than the $798,440 price recorded a year ago in October 2021 and was the smallest year-over-year price gain in 29 months. October 2022 marked the fifth consecutive month with a single-digit annual price increase.
With the average 30-year fixed mortgage rate expected to remain above 6.5 percent for the rest of the year, home prices are expected to moderate even further in the coming months as affordability will remain challenging.
October 2022 County Sales and Price Activity
(Regional and condo sales data not seasonally adjusted)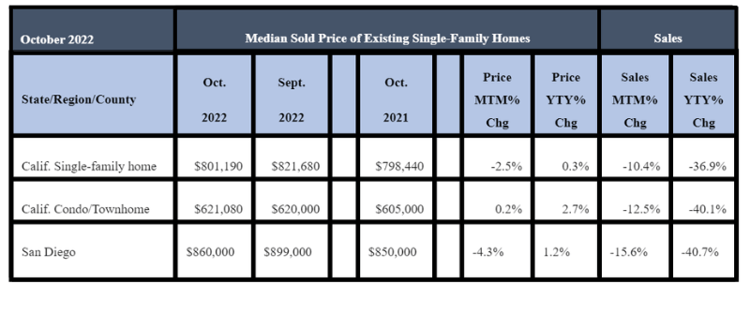 In San Diego, the median sales price for an existing, single-family detached home in San Diego County declined 4.3 percent to $860,000 in October 2022, compared to $899,000 in September 2022. The October 2022 median price was 1.2 percent higher than the year-ago price of $850,000 in October 2021. The median is the price at which half of the homes sell for more and half for less.
"While October's sales and price results were weaker than what we've experienced in the past couple of years and could slow further in the upcoming off-season, the market bottom could be in sight," said 2023 C.A.R. President Jennifer Branchini, a Bay Area REALTOR®. "Homes are still selling relatively quickly at 23 days on the market, one in four homes is selling above list price due to limited inventory, and with median price growth remaining positive in four of the five price segments, home prices are holding up reasonably well."
"Excluding the three-month pandemic lockdown period in spring 2020, October's sales level was the lowest since February 2008. With pending sales showing a 50 percent drop from a year ago, we can expect additional tempering in housing demand in the coming months, as we previously forecasted," said C.A.R. Vice President and Chief Economist Jordan Levine. "Home prices will also moderate further over the next several months as interest rates remain elevated in the near term and seasonal factors come into play."
Other key points from C.A.R.'s October 2022 resale housing report include:
-- At the regional level, home sales continued to fall sharply from last year, with four of the five major regions falling more than 35 percent from last year. Southern California had the biggest annual drop in sales at 40.8 percent, as every county within the region experienced a sales decline of more than 30 percent in October.
-- At the county level, all but one California county recorded a year-over-year home sales decline in October, with 41 of them plunging more than 20 percent from the same period a year ago.
-- At the county level for home prices, more than half of all counties in California maintained positive year-over-year median-price growth in October 2022. Prices were up from last year by double-digits in eight counties in October 2022 compared to five counties in the prior month.
October 2022 County Unsold Inventory and Days on Market
(Regional and condo sales data not seasonally adjusted)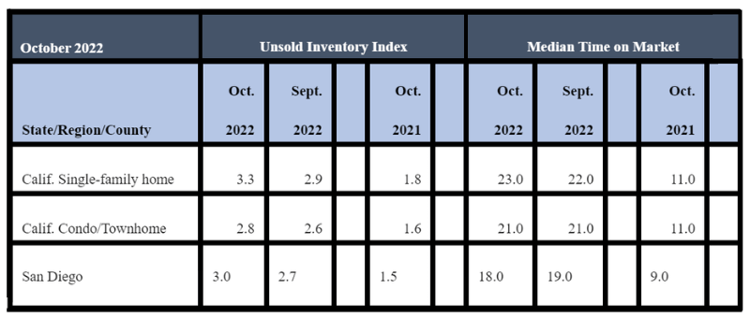 -- Housing inventory in October 2022 in California rose on a month-to-month basis and year-to-year basis at the beginning of the fourth quarter. Many potential buyers continued to put their home-buying plans on hold. The statewide unsold inventory index increased to 3.3 months in October 2022 from 2.9 months recorded in September 2022 and from 1.8 months recorded a year ago in October 2021.
-- Housing supply in California increased in October 2022 in all price ranges by 75 percent or more overall from a year ago in October 2021. Inventory improved the most (88.2 percent) for homes priced from $500,000 to $749,000. Other inventory increases in percentages included 83.3 percent for homes priced from $750,000 to $999,000, 82.4 percent in the $1 million and up price range, and 75 percent in the sub-$500,000 price range.
-- In San Diego, the inventory of available homes for sale in October 2022 increased to 3.0 months, compared to 2.7 months in September 2022, and 1.5 months a year ago in October 2021. Other inventory figures in 2022 include 2.5 months in August, 3.1 months in July, 2.4 months in June, 1.9 months in May, 1.6 months in April and 1.4 months in March. Inventory levels indicate the number of months it would take for the available supply of homes on the market to sell-out given the current rate of sales.
-- The median number of days it took to sell a California single-family home was 23 days in October 2022, compared to 22 days in September 2022, 19 days in August 2022 and 11 days in October 2021.
-- In San Diego, the median number of days it took to sell an existing, single-family home was 18 days in October 2022, compared to 19 days in September 2022 and nine days in October 2021. Other days-on-market figures in 2022 include 15 days in August, 10 days in July, eight days in June and seven days in May and April. The median represents a time when half the homes sell above it and half below it.
-- Once again, the statewide, sales-price-to-list-price ratio remained at below 100 percent. It was 97.3 percent in October 2022, compared to 97.7 percent in September 2022 and 98.4 percent in August 2022. A year ago in 2021, it was 101.5 percent in October, 101.9 percent in September and 102.8 percent in August. The sales-to-list-price ratio is an indicator that reflects the negotiation power of home buyers and home sellers under current market conditions. The ratio is calculated by dividing the final sales price of a property by its last list price and is expressed as a percentage. A sales-to-list ratio with 100 percent or above suggests that the property sold for more than the list price, and a ratio below 100 percent indicates that the price sold below the asking price.
-- The 30-year, fixed-mortgage interest rate averaged 6.90 percent in October, up from 3.07 percent in October 2021, according to Freddie Mac. The five-year, adjustable mortgage interest rate averaged 5.71 percent, compared to 2.54 percent in October 2021.