New Paragon upgrades arriving on August 3rd!
Paragon has a new set of updates to hotsheets, open houses, and more that go live on Wednesday, August 3rd. These improvements include:
Read Paragon's Knowledgebase article for a full list of updates.
Here were three of the most impactful changes that were updated in June:
1) Hotsheets
We have completely remodeled the hotsheet search in Paragon Connect. You'll be able to save and edit your hotsheets, set up alerts, view extended days back, and access even more features to get the most out of your search.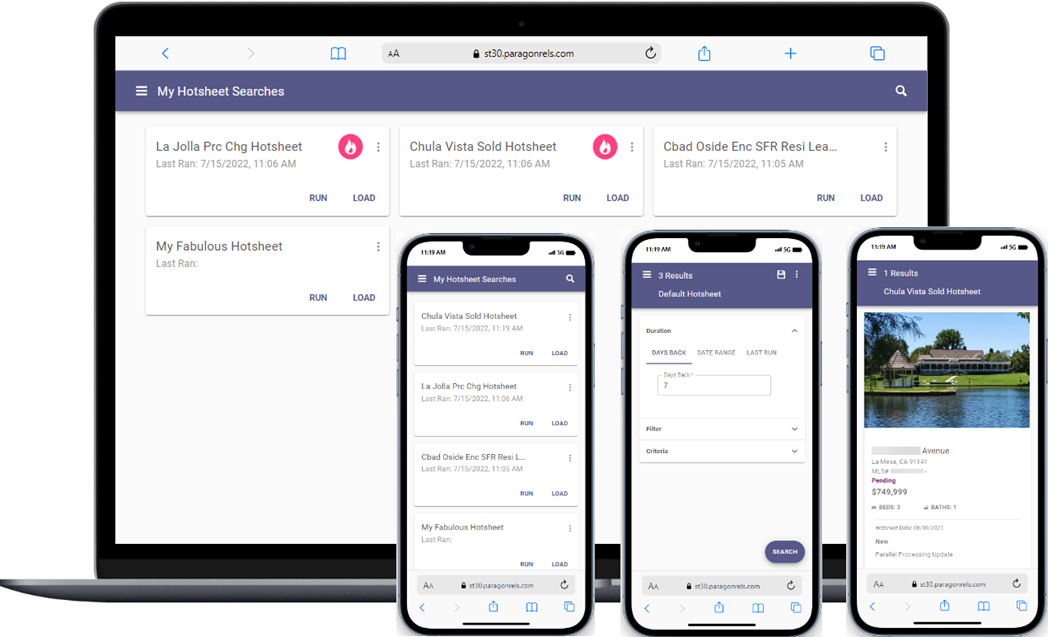 2) Open Houses
The new enhancement will empower you to do more with your open houses in Paragon Connect, including creating and editing open houses and adding them to your device's calendar.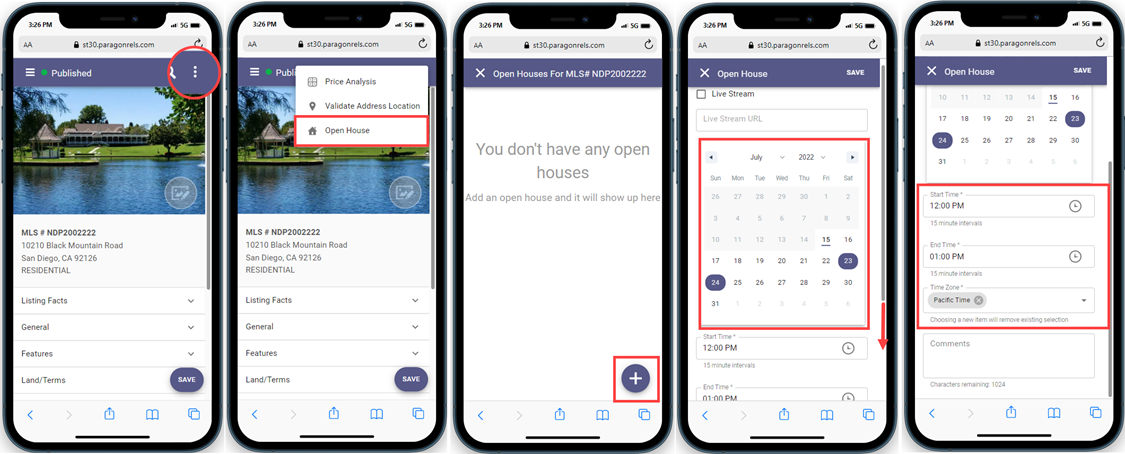 3) Listing Maintenance
This release will roll out the first features of the listing maintenance module we're building in Paragon Connect. You'll be able to access published and unpublished, or partial, listings that you have permission to maintain. Additional features like Auto-tax fill and Cloning will arrive in future releases.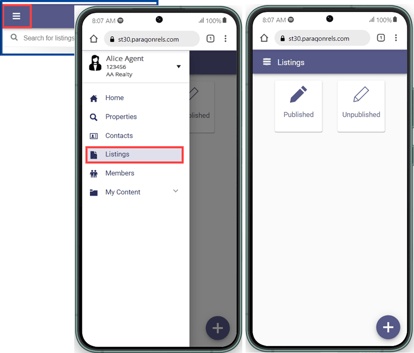 Older updates from June 8th.
Validate Address Location
The listing edit module in Paragon Connect now contains a feature called Validate Address Location. (This works like the Change Geocode feature in the desktop version of Paragon.)

From the Edit button on one of your listings, click on the overflow menu (three vertical dots) in the upper right corner and select Validate Address Location. The map will appear, including a property pin and the new Accuracy Indicator.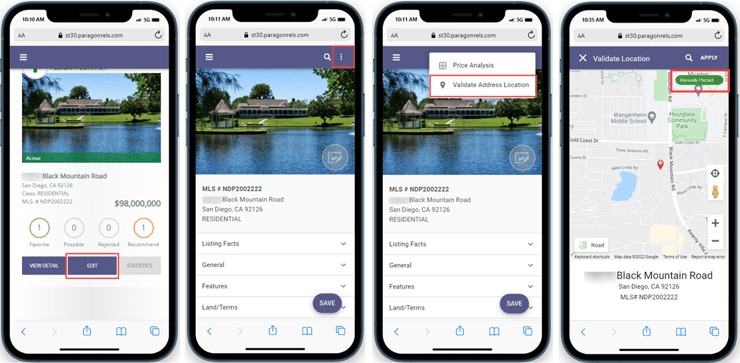 If the Accuracy Indicator is red, the geocode accuracy is less than 100%. The Accuracy Indicator will appear green if the accuracy is at 100% or if you placed the indicator manually. This feature gives you a clear indication of the geocode quality.

From the Accuracy Indicator, click the tool tip icon to see more information about the rating.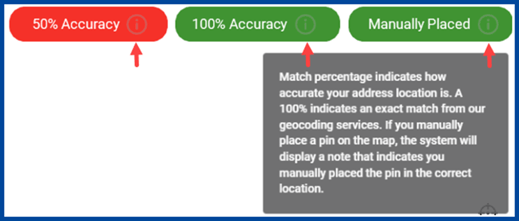 Geocode Using Address Search
You can now place geocode pins in Paragon Connect through a manual address search. Enter the address in the search bar, tap on the search icon, and compare this pin's location with your pin's location. (This map search functions the same as Center Map and Zoom on this Address in the desktop version of Paragon.)

If the default Road view doesn't give you enough information, switch to any one of seven views using the new Map Types feature.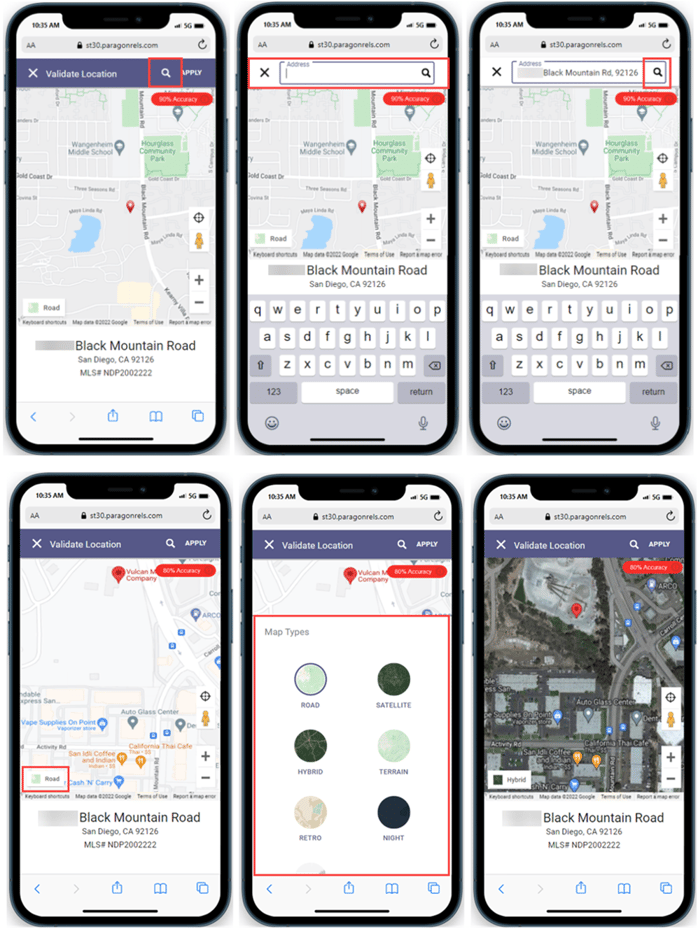 Geocode By Moving a Map Pin
You can move a map pin manually by selecting it and dragging it to the new location. After you move the pin, the Accuracy Indicator will change to green and read "Manually Placed." If you're happy with the location, click "Apply."

You will see a prompt saying, "Changes applied. Save to retain." Click or tap the Save button.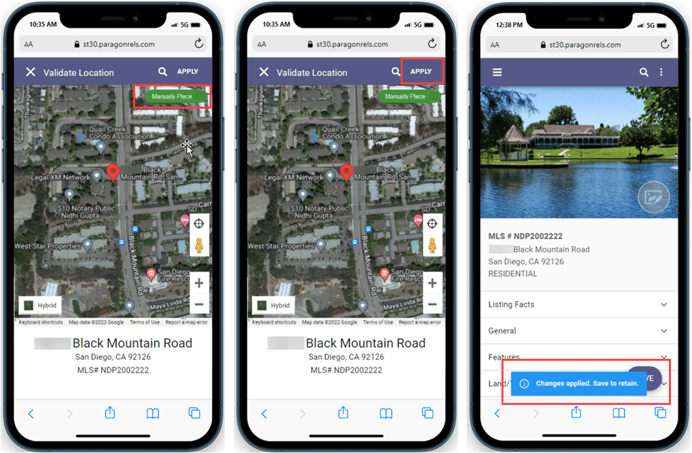 Warning and Error Validation
When you save any changes to a listing, the edit module now checks for any errors or warnings related to its address.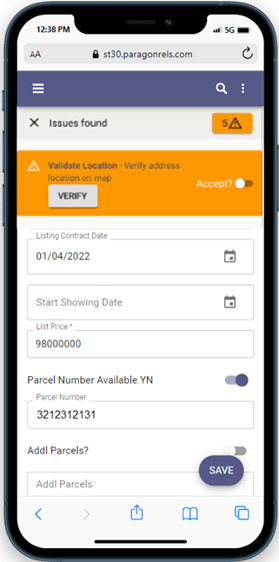 Overflow Menu Options
When you look at a saved search card, you will notice a new three-dot overflow menu icon in the upper right corner. Select this icon to open a menu with all your notification options, including:
Disable/Enable Collaboration Center
Email Options
Notification Triggers
Notification Time Frames
Resend Invitation
Delete Search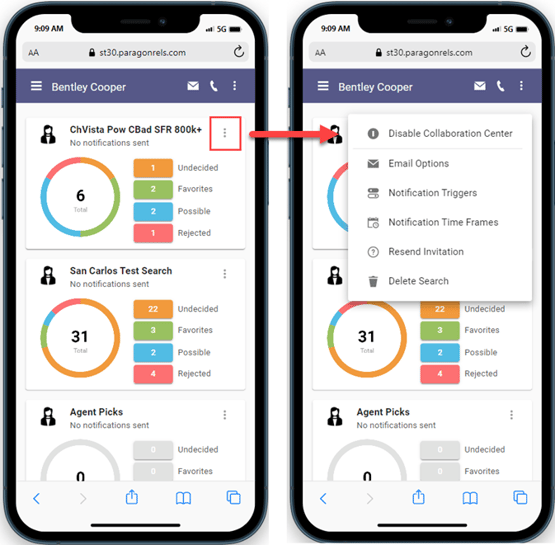 Note: Overflow options are only available on saved searches that have Collaboration Center notifications turned on.
Enable/Disable Saved Search Displays

You can now use Paragon Connect to enable or disable saved searches in your Collaboration Center site. In the example below, a user disables a saved search. Disabling the search removes its activity chart and moves it to the bottom of the list.

You can re-enable a saved search at any time by going to the overflow menu and selecting Enable Collaboration Center.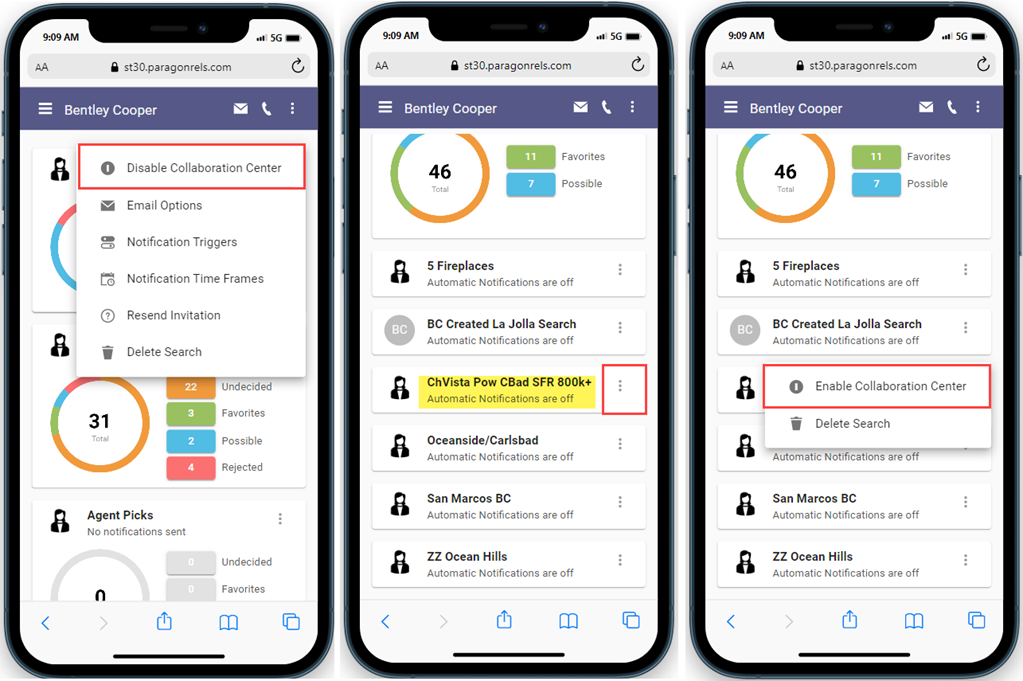 Email Options Menu

The Email Options menu allows you to edit who receives any specific email notification update from the Collaboration Center. You can also add a custom message to display each time Paragon sends a notification email.

New capabilities include:
Add or modify primary recipients
Add or modify CC recipients
Add or modify BCC recipients
Modify email subject lines
Add or modify a custom message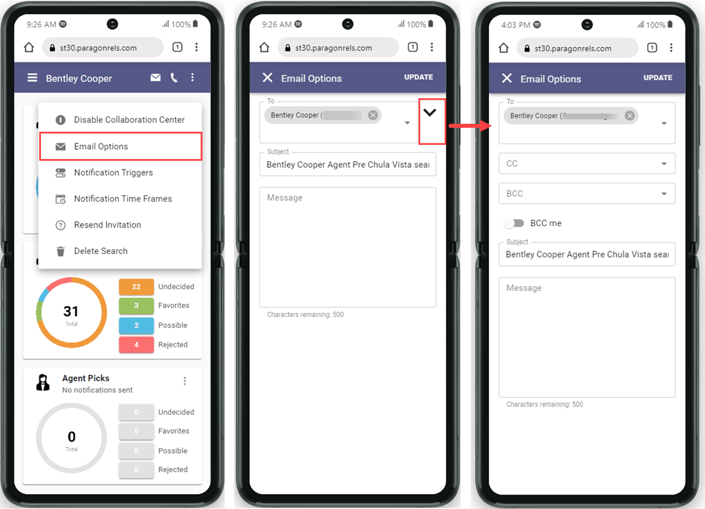 A full list of changes is available on the CRMLS Knowledge Base page. Click here to see the updates.