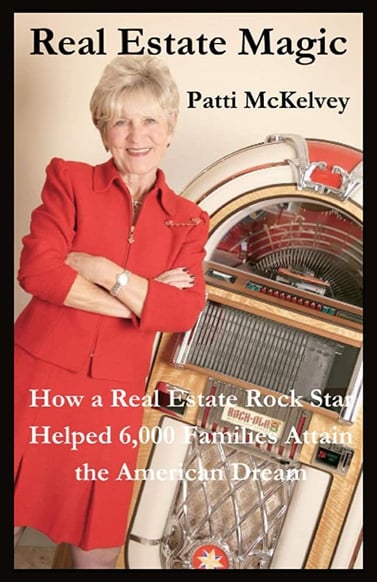 PSAR broker Patti McKelvey has authored a book in which she reflects on her 50 years in real estate.
Titled, "Real Estate Magic: How a Real Estate Rock Star Helped 6,000 Families Attain the American Dream," McKelvey's 171-page, self-published book is priced at $15 on Amazon.
Patti considers the book as her memoir. It includes stories about her childhood in South Dakota, her career as owner and operator of a children's furniture retail store prior to real estate, and her record-setting success in real estate sales.
"The title came from my clients who would say to me when a real estate deal hit a difficult point, `Patti, do your magic,'" she said.
"Hopefully, the readers, including other agents and entrepreneurs, will find something motivating and encouraging in the book. It's about my journey through business and real estate. I'm an example of not doing things the normal, scripted way. On the contrary, my journey has been far from ordinary."
According to the book's description on Amazon, "Her total is north of 6,000 units, which to Patti means helping all those individuals and families attain the American Dream.
The book includes several real estate client success stories as well as mentions her longtime support of St. Pius X Roman Catholic Church on Cuyamaca Avenue in Chula Vista. At the church, Patti serves as a Eucharistic minister and regularly attends 7 a.m. Mass on Sundays and daily Mass most mornings. Patti also has supported a number of charitable organizations, including South Bay Family YMCA, American Heart Association, Rady Children's Hospital, National Latino Peace Officers Association, and the Las Primeras Group, a philanthropic organization.
In Patti's book is her description of her strong beliefs in ethics, honesty, and personal relationships.
"I believe in a strong work ethic, honesty, integrity, and consistency and I admire great role models of ethics, such as John Wooden, and the founders of Hobby Lobby and Chick-fil-A," Patti said. "I also believe strongly in building enduring relationships. My friendship with clients does not end at the close of escrow. It continues long after.
"I love calls from clients asking for recommendations on home repair and professional services. I want to do the best job for my clients because that's my job. I want to make a difference in helping people get their new homes. I want to meet and exceed the wishes of my clients. In some cases, I have represented clients who were children years ago when I worked with their parents and now they're grown up."
On occasion, Patti said she might provide a copy of her book to new clients so they can learn more about her. "But, I'll probably do a lousy job at promoting the book. I would rather work in real estate than post something on social media about my book."
Patti grew up in Lestervillle, South Dakota, population of 115. "My mother and father ran the town's restaurant, so I was around customers all the time," Patti said, "I grew up thinking about customer service."
Patti earned a Bachelor's degree in business and English from Southern State University in South Dakota. She married Bill McKelvey and later they moved to Southern California, where Patti started designing children's furniture while Bill worked for the Drug Enforcement Administration (DEA). After moving to San Diego in 1976, Patti continued working in the furniture industry and operated a retail store, which she sold in 1987.
"I loved painting and designing children's furniture," Patti said. "Even back then, it was difficult to run a small business in California. Too many rules and regulations. So, I sold the business after many years, went to work on my Master's degree, and got my real estate license."
Patti has been a top producer since beginning her real estate career in 1987. She has been ranked in the top 1 percent of real estate professionals in America in listings, sales, and dollar volume. She was the #1 agent for sales in San Diego County in 2013, 2014, and 2015, selling the most units of any agent in the entire county. She was the top-producing agent in both sales and listings for 29 consecutive years at her previous brokerage of McMillin Realty, which was acquired in 2016.
In 2017, Patti and Jeff McKelvey, a mother-and-son real estate sales team, joined Coldwell Banker West (CBW). Since 2017, they have been ranked as CBW's top-producing team every year. Patti says she owes much of her success to Jeff, who has worked with her in real estate for nearly 30 years. The McKelvey team staff includes April Martin, Tyler Rowean, TJ Hughes, Chriselia Sandoval, Alex Medina, and Lauren Ortiz as transaction coordinators.
"I enjoy real estate because I love helping people realize their dreams of home ownership," said Patti. "I want to meet and exceed the wishes of my clients. It never gets old seeing the joy of helping people live the American dream."
The McKelvey group (CalDRE #00956130) can be reached at (619) 271-8300, or patti@mckelveyrealty.com.