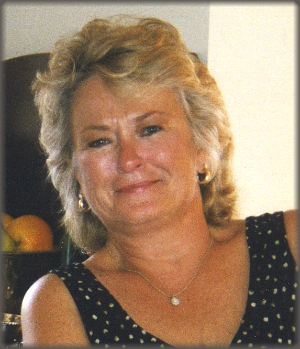 Tuesday, July 30th was a sad day, as our wonderful Realtor friend Patty Davis passed away on that day. Her health began to seriously decline about three months ago from congestive heart failure. We thought you would like to know a little about Patty, as she was one of PSAR's more illustrious members.
Patty Davis was born on Oct 1, 1950 in Louisville, KY. She grew up on a dairy farm, milking cows before and after school. Patty graduated from Ursuline Academy, received the US Army Walter Reed Nursing Scholarship and attended the University of Louisville, where she met her husband (now divorced) Rod Davis, a naval officer. They married and were transferred to San Diego in 1969, later moved to Guam, to Oakland, eventually returning to San Diego, where they settled in the Chula Vista area. They have two sons, Rod, born in 1970 and Eric, born in 1974. Patty has two grandsons she is very proud of, Justin Daniel and Cameron Eric.
In 1979, Patty started her real estate career, as a successful sales agent and property manager. In 1986, Patty became involved with the Association of Realtors' Government Affairs Committee, which sparked her interest in local politics, private property rights, as well as leadership within the real estate community. She traveled to Sacramento and Washington DC to lobby the politicians on real estate issues. In 1992, Patty served as president of the South San Diego Bay Cities Board of Realtors now known as the Pacific Southwest Association of REALTORS® . During her year as president, she led our association through the construction of our current office building on Canarios Court, quite a step-up from the tiny space at 588 L Street. Patty was soon designated as a Director for the state level California Association of Realtors and at the national level for the National Association of Realtors. She represented local Realtors as Federal Political Coordinators. This distinguished position allowed our local voices to be heard in the halls of Congress.
In local politics, Patty served as a rent control mediator for the mobile home parks in Chula Vista, served on Chula Vista's Economic Development Commission and on Chula Vista's Planning Commission. In 1998 she was elected to the Chula Vista City Council, even serving some time as deputy mayor. In 1999, Patty co-founded "Christmas in October" with Dr. Emerald Randolph. Every year this program fixes up houses of low-income homeowners in Chula Vista. Patty was the democratic nominee for California's State Assembly in 2004, running against an incumbent, and missed winning by only 500 votes.
At the time of her death, Patty was chairing the Cultural Arts and Design Review Committee for the Port District's Chula Vista Bayfront. She has continued to co-chair "Christmas in October" every year for Chula Vista.
Patty was known throughout our community for her fairness, her positive attitude and her willingness to help people. She will be missed, but her battle is over; she can now rest.
Services will be held as follows:

DATE: Friday, Aug 16th
TIME: 10:00am
PLACE: St Pius Catholic Church
ADDRESS: 1120 Cuyamaca Ave, Chula Vista, CA
RECEPTION: Immediately following the service in the church hall.