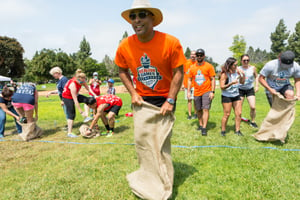 Get ready, loosen up and make plans now to participate in this year's PSAR 2019 REALTOR® Games. PSAR's third annual PSAR REALTOR® Games will be held from 1 to 4 p.m., Friday, June 21, at Scobee Park, 2390 Boswell Road in Chula Vista's EastLake community. Registration begins at noon, as well as the appreciation of sponsors. The games start at 1 p.m. sharp. Spectators are welcomed to attend and cheer for their favorite team. Food trucks will be on site.
The REALTOR® Games will feature teams competing in mental and physical challenges. The competitions will include agility activities, such as sack race, free-throw contest, balloon catch and cornhole, as well as mental challenges, including spelling bee, board puzzle and "REALTOR® Feud," a game resembling TV's "Family Feud." Another competition will consist of "Jenga," a game of skill featuring players taking turns removing one wooden block at a time from a tower constructed of several dozen blocks (the name Jenga is derived from a Swahili word meaning "build").
This year's proceeds will benefit three nonprofits, including South Bay Community Services and Unity 4 Orphan and Meals on Wheels San Diego County. In 2018, approximately 250 attendees helped generate $8,600 in donations to charities.
Once again, members of PSAR's Charity Committee are organizing this year's REALTOR® Games, including Robert Cromer, Laurie MacDonald, Angie West and Rhonda Bethard, to name a few.
"There is a lot of time, creativity and attention to detail that is given to this event," said Cromer. "We encourage everyone to take the time and join us. It's a wonderful feeling to know that we are going to raise a substantial amount of money for three extraordinary charities and touch the lives of their recipients through our donations."
Sponsors of this year's REALTOR® Games include The Village of Escaya, Homebridge Financial, Team Limon at Wallick & Volk, Guild Mortgage, Coldwell Banker West, Johnson Storage and Moving/United Van Lines, First American Home Warranty, Cardinal Financial Company, California Preferred Escrow, Liberty Mutual Insurance, New Venture Escrow, First American Title Co., Point Mortgage Corp., Ticor Title, Sketch Lab Co., Caliber Home Loans, In-Depth Real Estate Services Co., Staged Today-Sold Tomorrow, Corinthian Title & Escrow, Secure Funding Group, Lilly Molina of Coldwell Banker West and Marina Vista Escrow, along with Frida's Cocina Food Truck, Buffao Wild Wings, Doggos Gus, La Cochinita.
Product, service and equipment sponsors include Preferred Home Inspections, Caffe Tazza, Fine Wood Finishing, Pacific Drain & Plumbing, Minuteman Press, Award Sign Company, William Fagan DJ and Elsa Flores Photography.
Entry fee is $250 per team for a team of five. Contestants will receive a 2019 REALTOR® Games event t-shirt featuring sponsor names and a free food truck lunch ticket. Spectator admission is free. For more information, visit https://blog.psar.org/realtorgames190621, or call PSAR at (619) 421-7811.
The PSAR Charity Committee consists of a wonderful group of caring PSAR members who are willing to share PSAR resources and talent within the community through outreach and service. Their goal is to provide the necessary support to make a positive charitable impact within the communities served by PSAR members. The volunteers serving on the PSAR Charity Committee evaluate and review requests from nonprofits in the community. Then, they select worthy charitable causes to support.
Scobee Park is named in honor of Francis R. "Dick" Scobee (1939-1986), who was a Challenger Spacecraft Commander aboard the ill-fated Space Shuttle Challenger, which suffered catastrophic booster failure at 73 seconds after the launch on Jan. 28, 1986.