Registered vs Coming Soon
Click here to view the Registered FAQ and Click here to view the Coming Soon FAQ.


For an updated printable PDF of this checklist, go here.
Download the coming soon form to be signed by sellers here.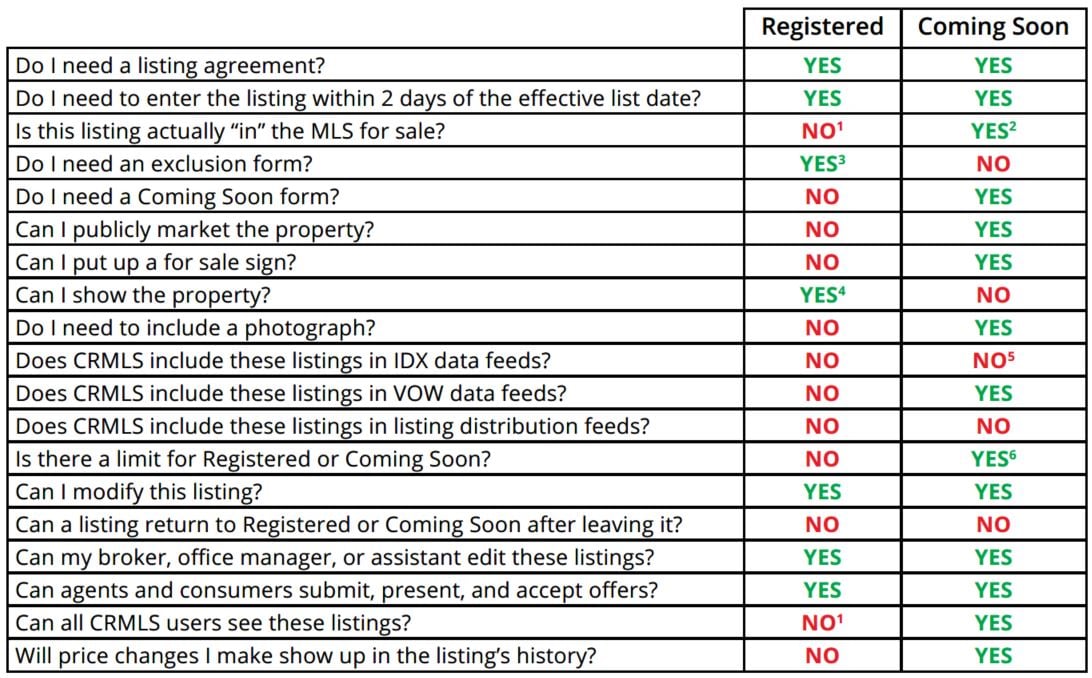 1 Registered listing contracts do not enter the MLS per the seller's instructions, either temporarily or for the whole term
of the listing. They are not "in" the MLS. Only the listing agent, listing broker, and office manager, and Association/CRMLS staff can view Registered listings.

2 Agents may treat a Coming Soon listing like an Active listing that no one can show for 21 days and that does not go out via listing distribution feeds (Realtor.com, etc.). Click here to learn more about IDX and listing distribution.

3 If agents are using the C.A.R. form RLA dated 6/2020 and option 7.D.1 is complete, agents do not need an additional
exclusion form. Agents do not need to submit exclusion forms to CRMLS. However, they do need to keep the signed and completed form(s) on file with the brokerage and provide them if the CRMLS Compliance Department requests them.

4 Agents may only show Registered listings to clients of the listing brokerage firm. CRMLS defines a "client" as an individual or entity that has signed, within the previous year, a Disclosure Regarding Real Estate Agency Relationship form in Compliance with CA Civil Code section 2079.16 which identifies the Listing Broker.

5 Coming Soon listings in San Diego County will go out to IDX feeds for applicable brokers. Applicable brokers are those
who participate in CRMLS and have Coming Soon listings for properties in San Diego County, regardless of their MLS
system or Association or Board membership. This does not affect any CRMLS listings outside of San Diego County.

6 Agents may only use the Coming Soon status for a maximum of 21 days from the date of entry. On day 22, the MLS system will move the listing into Active status. Please note: Agents may list New Construction Listings under the status of Coming Soon for longer than 21 days (until a notice of occupancy is issued), per Rule 7.18.4 of the CRMLS Rules and Regulations.
7. Information provided by CRMLS and current as of 7-14-2022. Rules constantly change. Check the CRMLS knowledge base for updated rules and changes.