Landlords and tenants alike have been hit hard with economic challenges resulting from the Covid-19 pandemic. Fortunately, several local cities and nonprofits who administer federal government programs on behalf of cities, have made rental assistance resources available to both landlords and tenants who have suffered Coved-related economic losses. PSAR members active in their communities should be aware of these following landlord/tenant resources:

-- In San Diego, With funding from the federal government, the San Diego Housing Commission (SDHC) helps more than 16,000 households with low income pay their rent in the City of San Diego. Through this rental assistance program, SDHC made payments totaling more than $166 million to more than 5,800 participating landlords on behalf of low-income families during Fiscal Year 2020 (July 1, 2019 – June 30, 2020).
In 2019, SDHC expanded its focus on landlord outreach and engagement with the creation of the Landlord Services Unit. This unit is composed of seven specialized staff who provide quality customer service to landlords and tenants participating in the Section 8 Housing Choice Voucher rental assistance program. For more details about SDHC rental assistance resources for properties located within the City of San Diego, contact SDHC, www.sdhc.org or call 619-578-7131.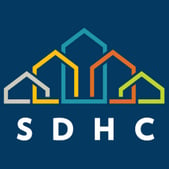 The SDHC Landlord Services Unit manages the agencies Landlord Partnership Program (LPP), which provides financial and support incentives to landlords who rent to families who receive federal rental assistance through the Section 8 Housing Choice Voucher program within the San Diego city limits (92037 and ZIP codes that begin with "921", except for 92118). Landlords who participate in the LPP may be eligible to receive up to $500 for each rental unit rented to a Section 8 household and up to $3,000 to help cover repair expenses in excess of normal wear and tear and rent due that exceeds the security deposit following tenant move-out. For more information about LPP, please visit https://www.sdhc.org/doing-business-with-us/landlords/landlord-partnership-program/
SDHC's services to landlords include consistent and on-time rent payment, access to an online landlord portal, and enhanced customer service.
-- In National City, South Bay Community Services (SBCS) launched a tenant-based rental assistance program in National City. The City of National City has reached out to PSAR seeking assistance in contacting property managers and management companies who have tenants with past due rent.
SBCS is now accepting applications for a COVID-19 Tenant Based Rental Assistance Program funded by the City of National City. This program will assist low-income families in who have suffered a loss in income or are unable to pay their past due rent because of Covid-related financial issues. You can help by notifying tenants that this rental assistance is available. Applications can be found at https://southbaycommunityservices.org/national-city-rental-assistance/. Application assistance is available in person at the National City Family Resource Center (304 W. 18th Street, National City), at rentalassistance@csbcs.org, or by phone: (619) 336-8360


-- In Chula Vista, the city is developing its long-term strategic plan for housing and determining housing dollars usage, according to the city website. Earlier this year, the Chula Vista City Council enacted a temporary eviction moratorium in response to Covid-19. The city's moratorium, which provided eviction protection for residents and commercial tenants, was superseded and replaced with AB 3088, known as "The Tenant, Homeowner and Small Landlord Relief and Stabilization Act of 2020." The law signed by Gov. Newsom on Aug. 31, protects renters, homeowners and small landlords through January 2021.
Chula Vista used a portion of the $3.3 million it received from the CARES Act to lend financial support to South Bay Community Services (SBCS), who assists residents with rent payments. An additional CARES Act allotment arrived Nov. 1, allowing SBCS to accept additional applications for rental assistance from those suffering economically from Covid-19 effects.

-- In El Cajon, several nonprofits who have contracts with the city are assisting El Cajon residents with rent payments. The nonprofits include Home Start (619-430-0032), Interfaith Shelter Network (619-702-5399) CSA San Diego County (619-444-5700). Earlier this year, the El Cajon City Council allocated $800,000 in special block grant funding to those impacted financially by the Covid pandemic.

-- In La Mesa, Home Start is overseeing a Rental Assistance Program. Applicants may qualify for up to three months of past-due rent assistance for those who have experienced job loss and/or other Covid-related financial challenges. Earlier this year, the La Mesa City Council approved $1.8 million in Coronavirus Aid Relief and Economic Security Act funding to businesses and residents. A portion of that money, roughly $600,000, was allocated to rental assistance to help people avoid eviction and homelessness.


-- In Lemon Grove, Home Start is supporting the city's rental assistance efforts. The Lemon Grove City Council allocated $100,000 of $162,371 in Federal Coronavirus Aid, Relief, and Economic Security Act funds to Home Start to help individuals needing hotel vouchers, transportation, reunification efforts and emergency items such as food, blankets and diapers. Funds are also available to those who need rental and utility assistance.
_______________________