About Robert | Photos of Robert and Colleagues | Services | Share thoughts about Robert
The Pacific Southwest Association of REALTORS® (PSAR) has lost a dear friend, Past President, CAR Region 30 Vice Chair, and current board member. It's with much grief and sadness to report that Robert Calloway has passed away at the tender age of 54. He was found at his home on Tuesday, May 5. The cause of death was determined to be heart disease.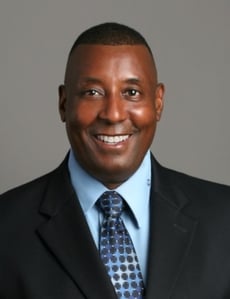 The theme for Robert's year as 2019 PSAR President was "Salute to Service." He said in a February 2019 PSAR blog post, "I have learned that nothing is more refreshing than to serve and giveback, and by getting involved. It's your attitude that is most important. There's something very authentic in participating with the desire to help others: Nothing to prove; nothing to lose.
"PSAR's mission is to empower our members. Our mission statement states: `We empower our members to flourish while being accountable to each other, our clients and our community.' Our members are self-empowered to take control of their own destiny and careers.
"I encourage everyone to get involved by volunteering and serving in their community. Don't just show-up, volunteer. Find your passions, utilize your strengths, be a participant, not just an observer, and you will get more out of life. You will develop your skills, advance your career and the experience will be rewarding to you both personally and professionally. While no one is capable of doing everything, everyone is capable of doing something."
Following the conclusion of his term, Robert said in a January 2020 PSAR blog post, "Thanks to all of you who participated and were dedicated to this theme. It was a year when our members definitely stepped up and served our Association by committing themselves to service and to our mission of Empowering Our Members."
According to Richard D'Ascoli, CEO, PSAR, the entire San Diego-area real estate industry has lost a true leader.
"I can honestly say that the overarching theme in Robert's life was his commitment to service," said D'Ascoli. "He lived a life of continuous and unrelenting service. In the Navy, he served our country, he retired and served the disabled veteran community by promoting VA benefits to those in need, Then, he began serving his real estate profession as president of our association. At the same time, he was serving the faith community at his church. His life will be remembered as an example of service. We will miss him greatly."
During his 2019 term as PSAR President, there were many highlights. Here are a few:
• 190 training classes, 23 unique events and 600 marketing sessions
• Expanded membership by 10 percent
• Expanded services by opening a third PSAR Service Center in Clairemont Mesa, 4340 Genesee Ave., Suite 203, San Diego, called the Central San Diego Service Center
• Launched a new weekly property marketing pitch meeting, called "City Pitch," held at 9 a.m., every Tuesday morning, at the PSAR Central San Diego Service Center
• Expanded access to more technology and listing data by joining the California Regional Multiple Listing Service
•Added Glide 2.0 and SavvyCard as new member benefits
• Awarded $13,500 to four local nonprofits, including South Bay Community Services, Unity 4 Orphans, Meals on Wheels and San Ysidro Health Center, as a result of fundraising at two PSAR events, including the PSAR 2019 Realtor Games, held in June, and the PSAR 2019 Zombie Run-Walk, held in October
• Published a new Local Area Disclosures (LAD) publication covering San Diego County in partnership with the North San Diego County Association of REALTORS® (NSDCAR), the new LAD contains disclosure information relating to properties in the San Diego region
• Recognized at the El Cajon City Council for a grant that created a website featuring resources and information to assist homeless people in the East County;
• Assisted the City of San Diego in writing the "Companion Unit Handbook," a helpful 38-page guide to help homeowners better navigate the process of constructing on their property a companion unit, also known as granny flats or accessory dwelling units (ADUs)
• Provided input to the La Mesa City Council, City of Chula Vista and San Diego County Board of Supervisors about ADUs in support of property owners and as a way to address the region's housing supply and affordability crisis
• Promoted the CRMLS/Mexico MLS data-share as a presenter at the AMPI (Asociacion Mexicana de Profesionales Inmobiliarios) national convention (AMPI is Mexico's counterpart to the National Association of REALTORS®)
•Solidified relationships with Baja Associations through meetings in Los Cabos and La Paz
Robert was especially proud of the recognition given for his efforts to help veterans with homeownership. In 2018, Robert was invited by Ernest J. Dronenburg, Jr., San Diego County Assessor-Recorder-Clerk, to serve as an advisor to the Assessor's Office on providing property tax relief to disabled veterans.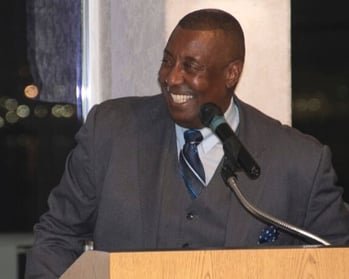 Under Robert's leadership, a number of homeownership initiatives were introduced that helped disabled military veterans achieve homeownership, stay in their homes and save money on their property taxes. As a result, the Assessor's Office has assisted more than 10,000 local disabled veterans since 2018.
Robert's efforts to help veterans resulted in PSAR and the Assessor's Office receiving a Golden Watchdog Award from the San Diego County Taxpayers Association. In addition, the California Board of Equalization (BOE), a state agency, also recognized Robert for his efforts to help veterans.
"Robert Calloway led a life of service," said Dronenburg. "Starting in the Navy and ending as a super professional in the real estate industry serving as the 2019 President of the Pacific Southwest Association of Realtors. He played an important role helping over 10,000 veterans in San Diego County as my advisor on tax breaks for disabled veterans. While he was recognized by the State of California for his leadership helping veterans and as the PSAR President, he will most be remembered as a joyful industry leader that made San Diego a better place to live."
Robert also enjoyed serving at Bayview Church in San Diego as a leader within the deacon ministry and a facilitator in Studies In Christian Living (SICL) Bible Study classes. According to Sherman Metcalf, Chairman of the Deacon Board at the church, Robert was an active member of Bayview for 14 years.
"Robert Calloway was a devoted Christian and servant of the Lord," said Metcalf. "Within the first year of membership at Bayview, Robert joined the Hospitality Ministry and had continued to serve faithfully in this capacity until his passing. In December 2014, Robert was ordained as a Deacon at Bayview where he dedicated his life to supporting the Senior Pastor who ministers to the congregation and community. Robert spent much of his time serving the church elders as well as a fellow Deacon who fell to a life-changing disability. Robert was the type of person whose presence enhanced whichever ministry he was a part of. He will be sorely missed."
Robert Daniel Calloway III was born on Dec. 12, 1965 in Atlanta, Georgia. He enlisted in the U.S. Navy at age 19. "I enjoyed traveling and the Navy sounded appealing," he said. "But, I never expected to travel that much."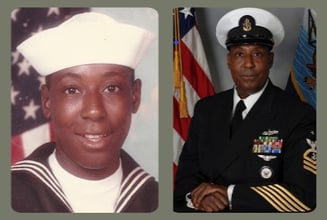 His Naval career included 13 deployments on six different ships. One of his most memorable experiences was watching his ship sink an abandoned Italian destroyer. "We towed his ship to an area near the international boundary with Libya," recalled Calloway. "Our purpose was to show our military might to Muammar Gadaffi. It was very exciting to watch the ship blow up. Muammar stayed pretty quiet after that."
Calloway served in the Navy for 26 years, from June 1985 to June 2011, retiring as a Senior Chief Navy Counselor. He worked in human resources and counseling in 20 of his 26 years.
Robert met President George W. Bush aboard the aircraft carrier USS Abraham Lincoln. It was on May 1, 2003, when the President declared "Mission Accomplished" regarding the end of major combat operations in Iraq in a nationally televised address.
"The President was very friendly and grateful and thanked us for our service," said Robert. "He was interested in our opinion and was a good listener about what we had to share. It was impressive to watch him land on the flight deck co-piloting the jet."
Robert started selling real estate in 2008, while still in the Navy. He joined PSAR at the start of his real estate career and was elected to the PSAR board of directors in 2014.
Prior to serving as PSAR president, Robert served as the founding president of the Veterans Association of Real Estate Professionals (VAREP), San Diego chapter. The chapter was launched in July 2013 and he served as its president until October 2015. He also served for three years as VAREP's Southern California State Director, overseeing the six chapters stretching from San Diego to Los Angeles. Headquartered in Corona, Calif., VAREP has more than 20,000 members nationwide, and more 60 chapters around the country, states its mission as to increase sustainable home ownership, financial-literacy education and economic opportunity for the active-duty and veteran communities.
"Robert was an earth angel," said Andre Hobbs, a San Diego REALTOR®, close friend and VAREP member. Hobbs helped Robert establish the San Diego VAREP chapter in 2013. Today, Hobbs serves on the VAREP national board of directors as a member of the organization's Affordable Housing Committee.
"What I mean by earth angel is someone who is born in human form and is beautiful and humble and shares with the world, generously and tirelessly, love, light and kindness of their hearts," said Hobbs.
Robert is survived by a daughter Danielle Calloway of Cincinnati, Ohio, and two stepsons, Ernest Turner of Fife, Wash., Shalom Richards of Graham, Wash.

Robert also is survived by four sisters and a brother. The sisters include: Alicia Wimbish (Carl) of Ellenwood, Georgia; Valerie Seaborn (Kenneth) of Monroe, Georgia; Yolanda Williams (James) of Lithonia, Georgia; Darlene Williams (Boris) of Conyers, Georgia; brother Roderick Calloway (Carolyn) of Ellenwood, Georgia.
Robert was preceded in death by his father Robert D. Calloway Jr, mother Alicia "Yvonne" Calloway and a sister, Cheryl Williams.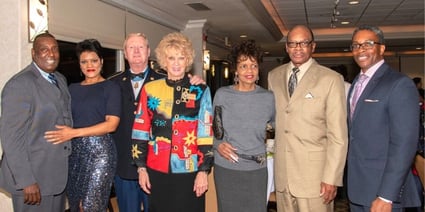 Robert also is survived by seven grandchildren, as well as a longtime friend, Elizabeth Taylor of San Diego.
In one of his final written statements to PSAR members, Robert provided some positive encouragement during the coronavirus pandemic. Robert was one of several PSAR past presidents who was quoted in a PSAR blog post. Robert's comment revealed his loving heart and concern for others. Here was Robert's comment: "We will get through this tough time as we have done in the past. Continue to work with your past clients and update them on what's happening in the real estate market. Also, please remain safe during the shelter in place, there is no amount of money that can replace you or a loved one."
Due to the coronavirus restrictions, the Celebration of Life memorial service honoring Robert will be held at a later date. Once finalized, details will be shared with all PSAR members.

For more photos of Robert and his PSAR Colleagues Click Here
Visitation: Tuesday May 19th from 6 P.M. to 8:00 P.M. to be held at Gregory B Levett & Sons
4347 Flat Shoals Pkwy
Decatur, GA. 30034
(404) 241-5656
Graveside funeral: Wednesday May 20th @ 1:00 P.M (Eastern) to be held at Kennedy Memorial Gardens
2500 River Rd
Ellenwood, Ga. 30294
(404) 243-8900
In lieu of flowers, the Calloway family has designated two real estate organizations to receive memorial donations in the name of Robert Calloway III. The family also requested that all donations be used to promote homeownership for military veterans, a worthy cause that was very important to Robert.
Online donations can be made in Robert's name to the San Diego Chapter of Veterans Association of Real Estate Professionals (VAREP) which is a 501C3, donations are tax-deductible. Visit
https://varep.net/donate
.
If preferable, paper checks can be mailed to the Pacific Southwest Association of Realtors in San Diego, 880 Canarios Court, Chula Vista, CA. 91910. In the memo line of your check, please write "Robert Calloway" and the donation will be allocated to programs benefiting military veterans. PSAR is a 501C6. Donations are not tax-deductible.