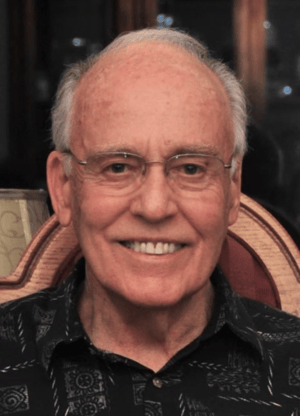 The PSAR family lost a good friend and 1983 REALTOR® of the Year with the recent passing of longtime member Ron Floyd, who died June 3. He was 89.
Ron founded his own real estate company in the 1960s and operated it until his retirement in 1991. For many years, he operated a Century 21 office, said a family friend.
Ron was born Aug. 27, 1932, in Portland, Ore. He had an older sister and a younger brother. His family moved to Southern California in 1939, and Ron attended school in Chula Vista. His family said Ron was raised in a God-fearing home, which had a great influence on his life.
After he graduated from Chula Vista High School in 1951, Ron worked for a brief time for a railroad company before he was drafted into the U.S. Army in December 1952. He served as a staff sergeant during the Korean Conflict. He was honorably discharged on Nov. 4, 1954.
After his return to Chula Vista, while operating a retail music business, Ron met his wife Donna Sterling. They raised three daughters, Michele, Kimberly, and Stacey. Ron and Donna were married for 64 years.
During his retirement years, Ron hosted many friends and ministers in their home for Wednesday Bible studies and Sunday morning fellowship meetings. The family said these times were always a great pleasure for Ron and Donna. His family said even when Ron's memory was failing, he would wake up and say, "Hurry up, I have to get ready for the meeting."
Ron is survived by a brother Robert, his wife Donna, and daughters Michele Rizos, Kimberly Floyd, and Stacey Wagstaff. Grandchildren include Anthony, Nathan, and Olivia Rizos. Nephews include Kenneth Konkel, Gary Konkel, and Brooke Floyd. Nieces include Karen Konkel, Brenda Swenson, Barbara-Jean Skalleberg and Bobbi-Jo Floyd.
Funeral services were held June 11 at Glen Abbey's Memorial Park and Mortuary. A graveside service was held on June 15 at Miramar National Cemetery.
# # #