Call for Nominations!!!
Do you know a fantastic PSAR REALTOR®, Broker/Office Manager, or Affiliate? Now is the time to give them the recognition they deserve. Please take a few minutes to nominate a candidate.
You can use either of these two methods to nominate.
Nominations must be received by Friday, November 5, 2021.
PSAR will recognize three REALTORS,® Brokers, and Affiliates each year from three distinct "Geographic Areas" of San Diego County, Central San Diego, East San Diego County, and South San Diego County. The names of individuals making nominations will remain secret. The number of nominations shall not create an advantage for nominees. Award winners may not be the sitting President of the Association and may not be a past recipient of the specific award regardless of the geographic area where the prior award was won.
Recognition Committee will consist of the past recipient of each award, the Affiliate Director, and members of the Committee Council, which consists of the PSAR Committee Chairman. Winners will be announced at PSAR's Installation. Awards will be given at our upcoming REAL Awards in 2022. At least one runner-up will be announced.
More Criteria Information and Past Recipients
___________________________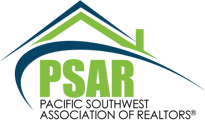 Since 1928, the Pacific Southwest Association of REALTORS® has played a significant role in shaping the history, growth, and development of the Real Estate industry in San Diego County.