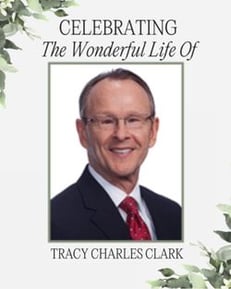 The PSAR family wishes to extend its condolences, thoughts and prayers with the sad announcement of the passing of Tracy Clark, a great man of faith, honesty and integrity.
A longtime PSAR member, Mr. Clark served as a commercial real estate broker for 34 years in the San Diego community. He served as senior vice president with Voit Real Estate Services, specializing in office, retail and investment properties. He served with Voit for 31 years. His family recalled one of his favorite sayings: "It's a great day to be in commercial real estate."
A Celebration of Life service will be held at 11:30 a.m., Friday, Jan. 14 at Awaken Church, 7620 Balboa Ave., San Diego. Burial will be held later the same day at 3 p.m. at Glenn Abbey Memorial Park, 3838 Bonita Road, Bonita. All PSAR members are invited to attend.
Tracy Charles Clark was born on March 11, 1955, in Albany, Wisconsin. He attended high school in Wisconsin and graduated from a college in Illinois. He married Silvia Clark on March 26, 1983. Silvia is a PSAR member and REALTOR® in San Diego.
Mr. Clark is survived by his wife Silvia, daughters Kimberly Clark Underwood, Lindsey Clark and Ashley Clark and 1 granddaughter Clark Mercy Underwood.
His family reports that Mr. Clark stayed strong in his faith in God through his illness. Until his last breath, he never wavered in believing in God's goodness and faithfulness to his family. His legacy will include as a man of honor and integrity who loved God and his family.