PSAR Helps Veterans / Active Duty Service members
with the Robert Calloway Memorial Housing Grant*
To celebrate Memorial Day 2020, the Pacific Southwest Association of REALTORS® (PSAR) is proud to announce the launch of a special grant program designed to provide active duty, reserve and veteran military service members in San Diego County who are first-time homebuyers with closing-cost assistance.
In a joint partnership with the California Association of REALTORS® (C.A.R.) Housing Affordability Fund (HAF), PSAR is providing 34 grants, each in the amount of $1,500. These closing cost assistance grants are being made available to military families for a first-time purchase of a home in San Diego County.
The PSAR-sponsored program, titled "Robert Calloway Memorial Veteran Housing Grant", launches June 1, 2020 and will continue for one year or until the available grant funds are exhausted.
"We are very excited to give-back to our military community and provide closing-cost assistance to our hometown heroes and their families who are searching to find a place to call home," said Robert Cromer, 2020 PSAR President. "Our nation has thrived because of the courage, perseverance and resolve of active duty, reserve and veteran Army, Navy, Air Force, Marine Corps and Coast Guard service men and women. They have served and protected this beautiful country and our rights that have kept us free. Now it's our turn to serve those individuals who have stepped up to protect the values and freedoms our country was founded upon. They fought for our homes, now it's our turn to take action and help them with their first homes."
The joint partnership with PSAR and C.A.R. was initiated by the late Robert Calloway, who served as 2019 PSAR President. A military veteran, Calloway served in the U.S. Navy for 26 years, from June 1985 to June 2011, retiring as a Senior Chief Navy Counselor. He specialized in human resources and counseling for the Navy during 20 of his 26 years. In 2008, Calloway started selling real estate while still in the Navy. He joined PSAR at the start of his real estate sales career and was elected to the PSAR board of directors in 2014. Prior to serving as PSAR president, Calloway served as the founding president of the Veterans Association of Real Estate Professionals (VAREP), San Diego chapter.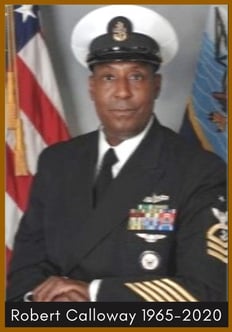 Calloway passed away suddenly from heart disease on May 4. He was 54. At the time of his passing, Calloway was serving as a current PSAR board member and as a C.A.R. director and Vice Chair of C.A.R.'s Southern California Region 30.
"It's great for our Association to team-up with C.A.R. and give back to our deserving veterans who have worked hard to protect our everyday lives," said Rich D'Ascoli, CEO of PSAR. "We are committed to working together to enhance lives of our veterans over the long haul. We feel naming this grant after Robert is a fitting tribute to his legacy as a veteran and a member of the PSAR family of realtors."
REALTORS® are limited to one transaction in a year's time. To qualify for the closing-cost assistance, the homebuyer's mortgage loan must already be approved through regular Desktop Underwriting (DU) industry standards and have an executed Residential Purchase Agreement (RPA) in escrow. Homebuyers also must be using a Veterans Administration (VA) loan for their home purchase. If, for any reason, the transaction does not fund or close escrow, the $1,500 allocation will return to the PSAR grant program fund.
The Robert Calloway Memorial Veteran Housing Grant program is funded by HAF, a 501(c)(3) nonprofit dedicated to addressing California's growing housing affordability crisis. The HAF receives donations from C.A.R. members, non-members and other institutions that are committed to addressing housing challenges in California. HAF donations are then distributed through local REALTOR® associations who have submitted funding requests for local housing affordability and housing supply programs. For maximum impact, HAF funds are leveraged with local associations and their housing partners.
HAF was established in November 2002 to provide more options to first-time homebuyers. It was created by REALTORS® who bore witness to working families being denied the American dream of homeownership. The HAF mission statement states the nonprofit plays an active role in addressing ongoing housing affordability challenges facing Californians
*QUALIFICATIONS:
• First Time Home Buyer
• Property in San Diego County
• VA Home Loan Guarantee
• Represented by a REALTOR®
• Program is good for 1 year or until funds are exhausted, limit to one Application per Realtor
(as of August 26, 2020 All grants have been given)
A committee of PSAR members will review and approve the grant applications. Committee members include Robert Cromer, Sam Calvano, Ditas Yamane and Tony Santiago.
"At PSAR, we use all tools available to achieve homeownership for everyone, including veterans" said Calvano. "Veterans can be assured that when they have a PSAR member representing them, they are getting the benefits of experience, knowledge and the best customer service. I am excited about this grant program which will help veterans with closing costs."
"It is especially gratifying to help veterans find a home in San Diego," said Yamane. "Veterans are our modern-day heroes who have selflessly shared so much and have sacrificed some of the best years of their lives, putting themselves in harm's way to fight for liberty and keep everyone safe."
"I have the upmost respect for our veterans," said Santiago. "I am proud of be part of PSAR and our efforts to help these courageous men and women who have sacrificed so much."
PSAR members who help a veteran family with closing-cost assistance are encouraged to create a video of the occasion when the keys to the front door are hand-delivered to their client. The best video will be shared in 2021 at the PSAR Real Estate Achievement and Leadership (R.E.A.L.) awards. The annual R.E.A.L. awards programs honors PSAR's top producing agents and give them a platform to be recognized for their hard work and dedication by their sphere, peers and the public at large. The R.E.A.L. awards recognize agents and brokers who have achieved excellence through production and industry leadership. Awards are based on either sales volume dollars or units sold, including listings or sales units entered into the MLS.