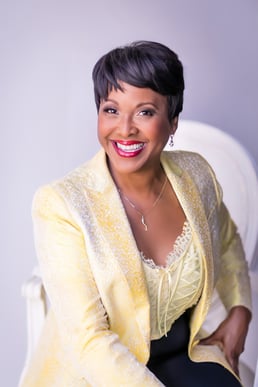 Meet Valerie Gardner, who was recently elected to a two-year term (2023-2024) on the PSAR Board of Directors.
Valerie was born at Eglin Air Force Base located in the western Florida Panhandle. She is the middle child of seven in a family of four daughters and two brothers.
Valerie's mom was a homemaker and her father served in the United States Air Force. Her father's Air Force career took Valerie to live in Augsburg, Germany, for elementary school, Great Falls, Montana, for middle school, and Albany, Georgia, for high school.
In high school, Valerie excelled as an athlete and was a member of the school's track team and women's basketball team. "I received recognition for my abilities while in all these sports," Valerie said.
After high school, Valerie attended Troy State University in Troy, Alabama, where she graduated with a bachelor's of science degree. Her major was criminal justice and her minor was in business.
After college, Valerie joined the United States Navy and honorably served for nine years. She worked in the Navy as an electrician, repairing motors and controllers on submarines. "I lived on the ship and carried on with my fitness and received commendations for being the fittest female sailor on the ship," said Valerie.
After her Navy career, Valerie worked in the insurance industry for 12 years. "I started working in the claims and worked my way up to branch claims manager," she said.
According to Valerie, "I got into real estate because I had a goal to be self-employed before I turned 40, and I have not looked back."
She began her real estate sales career in 2001 and was honored with the Rookie of the Year award in her first year.
"Over the course of my 20 years in real estate, I have learned that is my job to be an advocate for my clients," said Valerie. "My job is to meet them where they are, to listen and deliver on their needs, and to keep them on course."
Valerie's approach to real estate is also her motivation for serving on the PSAR board of directors. A friend encouraged her to run for a seat on the board and she decided to submit her name for the board election.
"My job will be to stand up for ethical and fair real estate business practices and protect private property rights, and protect the monetary investment made by our members and their clients."
According to Valerie, "I come from a place of love and understanding and this is why I have been a successful REALTOR® in one of the toughest markets in the country to succeed. Now, I'm ready to give back to our industry and help PSAR and our members in any way that I can. My friendships with other PSAR members, as well as the great educational and networking opportunities, have been an important part of my real estate business. I encourage all of our members to expand their participation and get involved with our Association because, with PSAR, you can make a difference."
_______________________________
PSAR's mission is to empower real estate professionals.
Since 1928, the Pacific Southwest Association of REALTORS® has played a significant role in shaping the history, growth & development of the Real Estate industry in San Diego County.