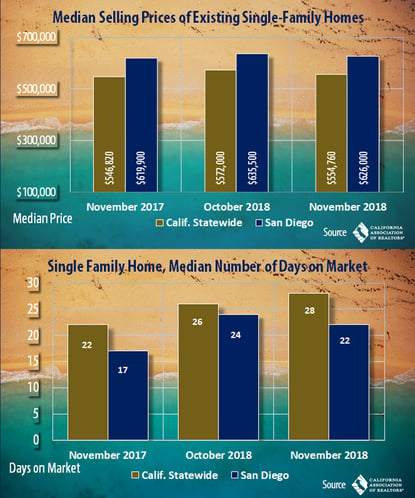 California home sales continued their downward trajectory trend across the state for the seventh consecutive month in November as prospective buyers continued to wait out on the sidelines, according to the latest housing market report for home sales and prices from the California Association of REALTORS® (C.A.R).
November's sales figure was down 3.9 percent from October and 13.4 percent from November 2017. Homes were selling at a seasonally adjusted annual rate of 381,400 units in November, compared to 440,340 a year ago. November marked the fourth month in a row that sales were below 400,000.
Sales in San Diego were down 8.4 percent in November 2018 from October 2018 and 11.0 percent compared to November 2017.
"While many home buyers continue to sit on the sidelines, serious buyers who are in a position to purchase should take advantage of this window of opportunity," said C.A.R. President Jared Martin. "Now that interest rates have pulled back, home prices have tapered, and inventory has improved, home buyers' prospects of getting into a home are more positive."
C.A.R. said November's statewide median home price declined to $554,760, down 3.0 percent from $572,000 in October but up 1.5 percent from a revised $546,820 in November 2017.
Prices are falling in San Diego as well. The median price in November 2018 was $626,000, down 1.5 percent from $635,500 in October 2018, but still 1.0 percent above last November's $619,900.
Closed escrow sales of existing, single-family detached homes in California totaled a seasonally adjusted annualized rate of 381,400 units in November, according to information collected by C.A.R. from more than 90 local REALTOR® associations and MLSs statewide. The statewide annualized sales figure represents what would be the total number of homes sold during 2018 if sales maintained the November pace throughout the year. It is adjusted to account for seasonal factors that typically influence home sales.
"The slowdown in price growth is occurring throughout the state, including regions that have strong economic fundamentals such as the San Francisco Bay Area," said C.A.R. Senior Vice President and Chief Economist Leslie Appleton-Young. "The deceleration in home price appreciation should be a welcome sign for potential buyers who have struggled in recent years against low inventory and rapidly rising home prices."
Other key points from C.A.R.'s November 2018 resale housing report included:
Statewide active listings rose for the eighth consecutive month after nearly three straight years of declines, increasing 31 percent from the previous year. November's listings increase was the largest since April 2014.
The median number of days it took to sell a California single-family home edged up from 22 days in November 2017 to 28 days in November 2018. Meanwhile, in San Diego County, the median number of days a home remained unsold on the market was 22 days in November 2018, compared to 24 days in October 2018 and 17 days in November 2017.
The unsold inventory index, which is a ratio of inventory over sales, increased year-to-year from 2.9 months in November 2017 to 3.7 months in November 2018. The index measures the number of months it would take to sell the supply of homes on the market at the current sales rate.
On a region-wide, non-seasonally adjusted basis, sales dropped double-digits on a year-over-year basis in the San Francisco Bay Area, the Central Coast, and the Southern California regions, while the Central Valley region experienced a relatively small sales dip of 3.9 percent.
Forty-one of the 51 counties reported by C.A.R. posted a sales decline in November with an average year-over-year sales decline of 16.8 percent. Twenty-six counties recorded double-digit sales drops on an annual basis.
The 30-year, fixed-mortgage interest rate averaged 4.87 percent in November, up from 3.92 percent in November 2017, according to Freddie Mac. The five-year, adjustable mortgage interest rate also increased in November to an average of 4.11 percent from 3.24 from November 2017.
In other recent real estate and economic news, according to news reports:
San Diego leads the nation with the most home price reductions this year. The share of home listings with a price cut grew to its highest level in at least eight years, says a recent analysis from Trulia. San Diego had the most reductions, 20.5 percent, of the 100 biggest metro areas in the United States so far this year. San Diego was tied with Tampa, which also saw 20.5 percent of homes with a price cut.
The San Diego metropolitan area has been ranked as the fifth least popular home buying market for millennials in the United States, according to the latest LendingTree report. The company found that San Diego-area millennials only accounted for about 35 percent of the home loan purchase requests for the first 11 months of the year. Tampa was ranked as the least popular market for millennial homebuyer loan requests, followed by Las Vegas, Miami and Orlando. Salt Lake City topped the list for the most millennial home loan requests at 51 percent. It was followed by Minneapolis and Pittsburgh, where nearly half of the requested loans were from millennials.
Few millennial renters can afford down payment on a home. According to Apartment List's 2018 Millennial Homeownership Report, 88 percent of millennial renters in San Diego say that they plan to purchase a home at some point in the future, but just 3 percent expect to do so within the next year, while 37 percent say that they won't buy for at least five years. The survey of 6,400 millennial renters found that while the overwhelming majority of those surveyed would like to purchase a home at some point in the future, far fewer are financially prepared to do so in the near term. Of the millennial renters in San Diego who plan to purchase a home, 59 percent have zero down payment savings, while just 14 percent have saved $10,000 or more, according to the survey.
With average rents nearing $2,000 a month, San Diego may be one of the pricier places for millennial renters in the U.S. Despite the cost, however, a survey by the rental platform company Zumper said that only 2 percent of millennials are getting help from their parents for rent. San Diego appears to be the most independent city with only 2 percent of respondents who had their parents help with rent, compared to 24 percent in Detroit. Austin had the second largest proportion of millennials in need at 23 percent.
San Diego had the second lowest unemployment rate among California's most populous metro areas this year between July and September, according to a report released Wednesday by the San Diego Regional Economic Development Corp. San Diego's third-quarter unemployment rate sat at 3.2 percent, bested only by San Francisco at 2.5 percent. The rates in both cities fell 0.5 percent between the second and third quarters. Compared to the other most populous metro areas in the country, San Diego ranked 10th in the third-quarter unemployment rate.