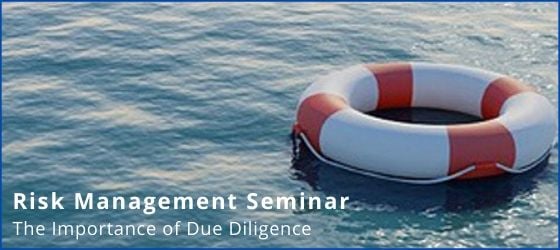 Risk management is the first line of defense against potential real estate claims. An effective risk management program can prevent a dispute from becoming a claim, and can be a compelling factor in reducing the actual cost of a claim.

Learn how you can minimize your business risk and protect your future success.
Guest Speakers:
Join Robert J. Sunderland, practicing real estate attorney and managing partner at the law firm of Sunderland I McCutchan, LLP
Chuck Piro, Disclosure Source Regional VP
Disclosing Natural Hazards Zones, as well as revealing Special Taxes and Direct Assessments, is the responsibility of both the seller and the agent representing the seller. Meanwhile, the NHD Industry remains unregulated and is largely made up of non-qualified entrepreneurs who offer sellers and agents little or no Liability Protection. Learn what to look for when performing your due diligence in selecting a NHD Provider. Fine Print disclaimers can reveal details unfavorable to you and your client.
Thursday | March 19th | 11:00 am - 2:00 pm

South PSAR Service Center
880 Canarios Ct., Chula Vista, CA 91910
Members $5 | Non-Members $20
THIS EVENT HAS BEEN POSTPONED - FUTURE DATE TO BE ANNOUNCED
For more information (click here)
---
Thank You to our Sponsor:

---


FLYER